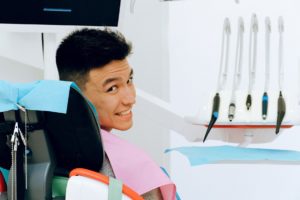 Besides your toothbrush and floss, your dentist is an invaluable asset to the health of your smile. The American Dental Association recommends visiting your dentist at least twice a year for a cleaning and checkup to maintain optimal oral health. During your time in the dental chair, it's your opportunity to give your dentist pertinent information to create a personalized strategy to keep your teeth and gums healthy. Here are 4 things to mention during your next dental checkup.
1. Your Oral Hygiene Routine
Brushing and flossing are your first line of defense against preventable issues, like cavities and gum disease. It's best to brush your teeth at least twice a day and floss daily; however, if you skip brushing before bed, don't hesitate to tell your dentist. Even if you're embarrassed by your oral hygiene shortcomings, it's information your dentist should know to monitor your risk of certain complications. Not to mention, they can tell just by looking at your teeth if you don't brush or floss as often as you should.
2. New Medications or Supplements
Certain medications and supplements that are taken daily can affect your oral health. For example, it's not uncommon for heart medications to cause dry mouth, which can make you prone to enamel loss and gum disease. Even some homeopathic remedies can adversely affect your smile. Your dentist can safeguard your teeth and gums from any potential side effects caused by medications or remedies you're using.
3. High Blood Pressure
Your dentist needs to know if you have high blood pressure before you have any dental treatments, especially if sedation is necessary. Not to mention, hypertension can increase your risk of gum disease while the infection can also raise your blood pressure. Your dentist can promote a healthy heart and gums through an individualized treatment plan.
4. Diabetes
Diabetes can cause several health problems for your body, but your eyes, kidneys, and immune system aren't the only things at risk. People with diabetes often have a harder time healing or fighting infections, making them susceptible to gum disease. If the infection develops, it can be difficult to treat because your body's immune system already is compromised. As a result, your dentist may recommend more frequent visits to ensure your gums stay healthy.
Achieve a Healthy Smile
Your dentist has the qualifications and experience necessary to keep your smile healthy for decades. With a complete picture of your oral and general health, they can provide a higher level of care that caters to your specific needs. Don't be nervous to share information with your dental team to achieve the healthy smile you deserve.
About Dr. Shelly Stroham
Dr. Stroham earned her dental degree at the UMKC School of Dentistry and has completed additional training in sedation dentistry. She strives to keep patients comfortable while meeting their oral health needs. As a member of the American Dental Association, you can feel confident your smile is in good hands. If it's time for your next cleaning and checkup, contact our office today.