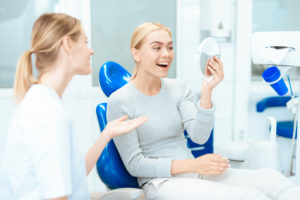 You're eager to achieve your dream appearance, and you're well aware of the many benefits that await you. The only potential barrier is that you're on a budget. Thus, you're looking for alternative methods to pay for any treatments you may need. Continue reading to learn about 3 cost-effective ways to have your smile upgraded by a cosmetic dentist in Wichita Falls.
#1 – Dental Financing
Cosmetic dental procedures typically aren't considered to be essential. Thus, you can expect to pay out-of-pocket. If you're looking to decrease your initial investment, you may consider dental financing.
The most familiar program is CareCredit. If you qualify, you can finance the cost of your treatment at low or no interest. The plan arrangements are rather flexible, usually ranging from six to 24 months. Before scheduling your cosmetic dental appointment, you'll want to make sure the dentist accepts CareCredit.
#2 – Dental Grants
A rather unique option is to apply for a Cosmetic Dentistry Grant (CDC Grant). The program is open to anyone who "wishes to improve their oral health and return confidence to their smile."
There is an eligibility requirement, though. You'll need to demonstrate that your mouth is healthy enough to support the type of cosmetic dentistry you desire.
After you're cleared, you'll be recommended for acceptance into the program. However, you should keep in mind that the qualifying process can sometimes take months to complete.
#3 – Online Fundraiser
Maybe you have a large social media network, or you have a bunch of family members or friends. There's a way to make the most of those connections. You can visit gofundme.com and start a "crowd-funding" campaign. This simply means that you're relying on the people you know (whether virtually or in-person) to support your oral health goals. Once your smile is revamped, you can even take pictures to let everyone know that their funds were utilized as intended.
The main idea is to use your creativity to secure the necessary resources to have your smile revamped. No longer is achieving an aesthetically pleasing appearance relegated to the more affluent of society. You too can experience the confidence and happiness that comes along with having your smile upgraded. To get the process started, reach out to a dentist in Wichita Falls to schedule an initial visit today!
About the Author
Dr. Shelly Strohman earned her dental degree from the University of Missouri Kansas City School of Dentistry. Throughout her career, she has been an advocate of continuing education, completing several hours of advanced postgraduate training. A member of the Texas Dental Association and other professional organizations, Dr. Strohman offers an array of cosmetic dental procedures and accepts CareCredit at Strohman Dental. She can be reached for more information or to schedule a visit through her website.