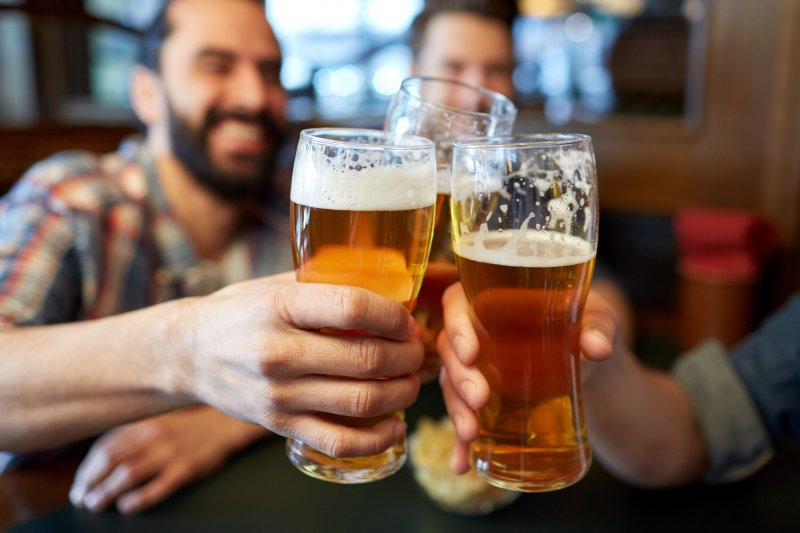 Many of us like to meet up with friends or family on the weekend for a drink or two after successfully completing a long week of hard work. Having an alcoholic beverage or two usually doesn't hurt too bad, but if you are drinking a lot on the regular, you could suffer from consequences. Heavy drinking increases your risk of cirrhosis of the liver, heart disease, and anemia, as well as contributing to periodontal disease. Continue reading to learn more about how alcohol contributes to gum disease and how much is too much.
What Is Considered Heavy Drinking?
The Centers for Disease Control and Prevention (CDC) generally define heavy drinking by the number of drinks you consume on a weekly basis. This number can differ depending on a few different factors, including gender. For a man, heavy drinking is about 15 drinks or more in a week. For women, this is closer to 8 or more beverages in a week.
Heavy drinking is not the same thing as binge drinking. Binge drinking is when a man has 5 or more drinks, or a woman has 4 or more drinks within a two-hour period. This is likely to bring the blood alcohol concentration (BAC) level to 0.08% or more. This is the legal level of intoxication in the United States.
How Does Heavy Drinking Contribute to Gum Disease?
A recent study has shown that people who drink more than the daily recommended limit of alcohol are more likely to have an unhealthy mix of bacteria in their mouth. When compared to people who do not drink alcohol, heavy drinkers have fewer beneficial bacteria and greater harmful bacteria in the mouth.
One of the reasons why this occurs is because alcohol consumption contributes to dry mouth. Drinks that contain higher percentages of alcohol speed up this process as well. You need to have enough saliva in your mouth in order to wash away food particles and bacteria from the teeth. This also helps to neutralize damaging acids in the mouth that weaken your protective tooth enamel. Ultimately if you drink often and have dry mouth, you are more likely to develop periodontal disease and require gum disease treatment in Wichita Falls.
Approximately half of American adults over the age of 30 are suffering from periodontal disease, but it is easily preventable. By keeping your alcohol intake to a minimum and maintaining excellent oral hygiene, your smile will thank you!
About the Author
Dr. Shelly Strohman is an experienced dentist who has been working in the field for 13 years so far! She earned her Doctor of Dental Surgery from the UMKC School of Dentistry. Currently, she is a member of the American Dental Association, Texas Dental Association, 13th District Dental Society, and Texoma Christian Care Center Board of Directors. If you are struggling with gum disease, she would be happy to help. For more information or to schedule an appointment at her office in Wichita Falls, visit her website or call (940) 613-0299.