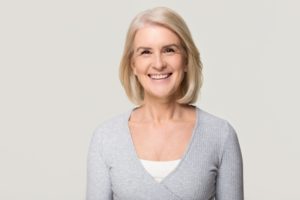 When you look at your smile in the mirror, are you unhappy with what you see? Cosmetic flaws like chips, cracks, gaps, or crooked teeth can turn a beautiful smile into something you want to hide. Thankfully, your cosmetic dentist can provide you with a variety of amazing treatment options for the smile of your dreams. But which cosmetic service is right for you? Take our quiz to find out. And don't worry—there are no wrong answers!
#1. On a Scale of 1 to 10, How Would You Rate Your Smile?
Between 7 and 9, there are small imperfections like discoloration that I wish would disappear.
Between 4 and 6, my smile has multiple chips, cracks, and stains that take away from my overall appearance.
Between 1 and 3, I have chipped, cracked, gapped, crooked, and yellowed teeth, which is why I hide my smile for photos.
#2. What is Your Budget for Cosmetic Dentistry?
I need an incredibly affordable solution.
I am willing to spend a little to achieve my desired results.
I am ready to pay whatever it takes in order to get the smile I've always wanted.
#3. Do You Want to Permanently Alter Your Smile?
I want conservative treatment with minimal changes to my smile.
I will consider altering my smile for my desired results.
I am open to whatever is recommended because my smile needs all the help it can get.
Your Results Are In!
If you answered…
Mostly A's
You're in luck! You probably need a less involved cosmetic treatment like teeth whitening. This service is incredibly affordable and convenient, allowing you to achieve the bright and white smile that you've always wanted in just a single appointment! We use effective professional-grade gel that reaches beneath the surface of your smile to whiten tough stains and yellowing.
Mostly B's
You may need dental bonding combined with teeth whitening! Dental bonding utilizes the same material as tooth-colored fillings to repair slight chips, cracks, and gaps. Plus, teeth whitening can correct any stains or yellowing that may be affecting your smile.
Mostly C's
Thankfully, even if you have a variety of different cosmetic imperfections, your dentist can provide you with a smile makeover using porcelain veneers. These thin shells of dental porcelain conceal the front surfaces of your teeth to create your dream smile. The best part is that they can be personalized to your exact size, shape, and shade preferences.
Are you ready to get the smile you've always wanted? Now that you know how your dentist can help, schedule an appointment to get started on your dream set of teeth!
Meet the Dentist
Dr. Shelly Strohman's favorite part of her job is being able to restore her patients' smiles, beauty, and confidence all by blending art and science to achieve amazing results. She is an active member of the American Dental Association, Texas Dental Association, 13th District Dental Society, and more to stay up to date on the latest in dentistry. If you have any questions, she can be reached through her website or by phone at (940) 613-0299.