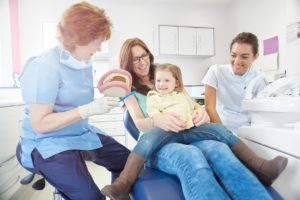 Life as a parent is busy enough without having to shuffle around town to get the kids to all their dental appointments. Wouldn't it just be easier if everyone in the family could be treated under one roof? That's why it's best to see a family dentist. They can give patients of all ages the care they need, all in one place. But how do you choose which practice is right for you? Keep reading to learn 4 ways to choose the right family dentist for you.
Services Offered
First and foremost, you want to examine whether a family dentist will provide all the services that you and your loved ones will need. Some examples of things you might want to consider are:
Do they treat children, adults, and the elderly?
Do they offer cosmetic procedures for adults?
Do they create a friendly environment for children?
Do they instill good oral hygiene habits in kids?
Do they allow back-to-back appointments so you and your family can all get treated on the same day?
Think about all the services you or your family could possibly need, and choose a dentist who provides those services.
Qualifications and Experience
Dentists must meet certain qualifications in order to practice, but that doesn't mean that all dentists are the same. A quick online search of the practice can often reveal an "About the Doctor" page, where you can learn about the experience and qualifications the dentist has. When in doubt, you can always visit the office in person and ask the office staff, hygienists, or dentists to describe their qualifications. They should be more than happy to provide you with any information you need.
Office Environment
There are a few things you should ask yourself when you enter the building:
Are you greeted with a smile?
Is the waiting room comfortable?
Do they make your children feel safe and relaxed?
Are the staff friendly?
If you feel comfortable inside the physical office, that can be a good sign that the service will be excellent for you and your family.
Reviews
Reviews from current and former patients are a great way to get an unbiased opinion of the practice. Anything you read on the dentist's website is going to be heavily skewed in their favor. With reviews, you get completely honest accounts of people's experience. It might seem dauting to sit and read through a bunch of reviews, but it's worth it to choose the right practice for your family.
Choosing the right dentist for you and all your loved ones is not an easy choice to make. But with these tips, it should be a little easier. If you're in the Wichita Falls, TX area, then Dr. Shelly Strohman is happy to treat your whole family under one roof!
About the Author
Dr. Shelly Strohman has been practicing dentistry in Wichita Falls for 13 years. She is certified in using nitrous oxide for sedation dentistry to alleviate any anxiety you or your child may have about the procedures you need. She and her team loving meeting and treating patients of all ages and building relationships with families. To learn more about how she can help your family, click here or call (940)-613-0299.