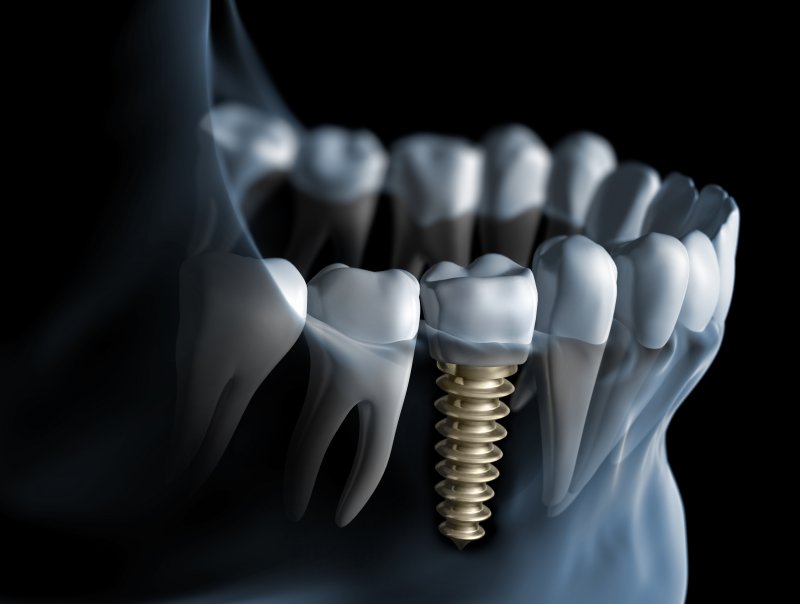 As one of the most common tooth restorations available, dental implants have helped more than 3 million Americans regain their smile. Made of titanium, the implant serves as the tooth's root and is surgically implanted into the jawbone. Once it properly fuses together with the bone, a customized crown is placed to provide a seamlessly blended smile. While most implant placements are successful, there are times when complications can occur. Here are 4 common problems and ways in which you can treat them.
Loosening Implant
While your implant is in the healing process, it might become loose. You may not experience any pain or infection. But this can occur because there is a lack of bone to cover the implant. If your implants are placed near your molars in the upper jaw or where a tooth has been extracted, this is more likely to occur. It's also more likely if you have implants placed on areas that have received a bone graft or in narrow parts of the lower front of the jaw. If you smoke or have diabetes that is not controlled, you'll be more likely to experience bone problems that can cause loose implants.
Bone Loss
When using your implants, if your bone is unable to handle the force you apply to it, this can result in your implant becoming loose. In these instances, your cosmetic dentist will administer local anesthesia before removing the implant. If necessary, she'll perform a bone graft, adding bone minerals to build up the area. Stitches will be applied to allow it to fully heal. If it's possible, you might be able to have a new implant placed once you are healed and the bone is strengthened.
Infection
In more severe cases, infection can develop while using your dental implant. Peri-implantitis can occur, which is a disease in the gum that causes bone loss. As a result, your implant will fail and require removal. Depending on the severity of the infection, you may or may not be able to have the implant replaced.
Excess Space
If excess space exists after the implant is placed and you begin to use it, it may be because your implant is the incorrect size and shape and does not match the tooth that you lost. If this happens, food can become stuck between the implant and your natural tooth. Your dentist will need to replace the crown so that it eliminates the extra space between your teeth.
If you're concerned about your dental implants, remember that they have a high success rate of 98%. That is not to say problems cannot happen, but if they do, trust that your cosmetic dentist will offer the right solution to help you regain your smile.
About the Author
Dr. Shelly Strohman, DDS, attended Oklahoma State University before enrolling at UMKC School of Dentistry and achieving her Doctor of Dental Surgery degree. Providing her patients with confident, healthy smiles, she offers a wide array of restorative solutions, including dental implants. To learn more, contact us via our website or by calling (940) 613-0299.