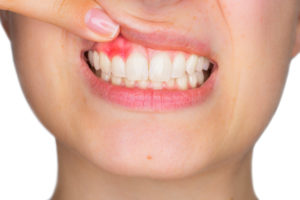 Did you know that February is Gum Disease Awareness Month in Wichita Falls? With 85% of American adults suffering from some degree of gum disease, the Institute for Advanced Laser Dentistry (IALD) launched Gum Disease Awareness Month seven years ago to educate men and women about the dangers of the common disease and how to prevent it. As you will learn below, preventing gum disease is about more than sustaining your oral health – maintaining healthy gums could also help prevent other serious diseases and illnesses. Want to know more? Here is everything you need to know about gum disease.
What is Gum Disease?
Gum disease, also known as periodontal disease, is an infection of the tissues in the mouth that support the teeth. This common disease is caused by the bacteria in plaque and, if allowed to progress, can lead to irreversible damage to your mouth – including tooth loss!
Gum disease is usually painless during the early stages, making it difficult to detect on your own. Common symptoms of gum disease include:
Persistent bad breath
Bleeding gums when brushing or flossing
Sore, swollen or tender gums
Receding gums
Sensitive teeth
Bite problems due to shifting teeth
Visible pus surrounding the teeth and gums
Gum Disease: Not Just an Oral Health Problem
While losing teeth is bad enough, untreated gum disease can affect more than just your oral health. Indeed, new research released earlier this year revealed a strong link between gum disease and Alzheimer's disease. The research found that P. gingivalis, the main bacterium involved in gum disease, may invade and inflame the regions of the brain affected by Alzheimer's. The scientists who conducted the study believe that inflammation caused by gum disease allows P. gingivalis and other bacteria to enter the bloodstream and reach the body's internal organs.
In addition to Alzheimer's disease, gum disease has also been linked to the following systemic illnesses:
Heart disease
Stroke
Diabetes
Infertifily
Certain types of cancer
Rheumatoid arthritis
When to See Your Dentist in Wichita Falls

Fortunately, gum disease can be successfully treated and reversed if caught early on. Visiting the dentist every six months for a routine dental exam and cleaning is therefore key to catching gum disease before it can worsen and cause permanent damage.
During each routine dental exam, your dentist will:
Check for inflammation and other signs of gum disease
Measure the depth of any pockets around the teeth
Expertly clean your teeth and remove harmful plaque and tartar
Discuss with you the risk factors (such as smoking) that can contribute to gum disease
Healthy gums are an important part of a healthy smile! Ask your dentist about periodontal disease in Wichita Falls to learn more preventive tips that will keep you smiling long into your golden years.
About the Author
Dr. Shelly Strohman has provided high-quality dental care to the Wichita Falls community for over a decade. The Oklahoma native offers two special procedures in office for patients with advanced gum disease to help restore their oral health. Patients who want to make healthy gums a priority can contact Dr. Strohman via her website or by calling 940-613-0299.