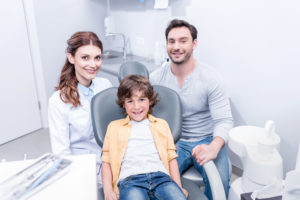 When you've got a family, everything is a project. Just rounding everybody up to leave the house – grabbing shoes, jackets, making sure everybody's buckled in – turns into an adventure. So every chance you get, you look for a hack that will allow you to meet everyone's needs without getting pulled into a million different directions. One of the needs of your family is to have excellent dental care and health, but the same challenge persists – finding a convenient way to accommodate everyone. Thankfully, your family dentist in Wichita Falls offers a "one-stop smile" for the entire household. Learn more about this as you continue reading.
What is the One-Stop Smile?
Is this a reference to a particular service offered by your local dentist? It's not, but the "one-stop smile" concept refers to the type of experience you'll have. You'll only have to make one stop for your family dental health care, which is of the utmost importance to you. Why?? Your time is limited and precious. You don't want the burden of driving all over town to take the children to one dentist and then travel somewhere else for your oral care needs.
There's only one dilemma – how can you find the right dentist?
What are the Services Offered?
The right dentist for your family will offer a multitude of services. Here are some of the offerings you'll find at Strohman Dental:
Family and Preventive Dentistry – Big dental problems can be prevented by maintaining regular appointments for checkups and cleanings. In addition, you can save money by visiting your dentist because preventive care appointments are usually completely covered by your insurance.
Restorative Dentistry – Are you ready to finally get that cavity filled? Are you tired of having a damaged crown? The multitude of restorative services offered will have you functioning as normal in no time.
Dental Implants – Tooth loss is always something you want to guard against, but if it happens, there's a highly effective way to restore you to normal with dental implants.
Cosmetic Dentistry – If you decide to treat yourself to a smile improvement, there's no need to look elsewhere. Your dentist in Wichita Falls can provide expert care.
Children's Dentistry – To classify as a "one-stop smile" your dentist has put the time and attention into creating an environment that makes kids feel calm and relaxed, while delivering the type of care that they need.
Emergency Dentistry – As much as you try to avoid them, emergencies happen. It's always comforting to know that your trusted dentist is available to restore your normal state of health.
You have to carry such a heavy load. Why not lighten it a bit by reaching out to Dr. Strohman to schedule an appointment to talk about the dental care needs of your family. She will work with you to develop a care plan for the entire household, so reach out today to set your first visit.
About the Author
Dr. Shelly Strohman earned her DDS degree from the University of Missouri – Kansas City School of Dentistry. She practices at Strohman Dental and can be reached for more information through her website.