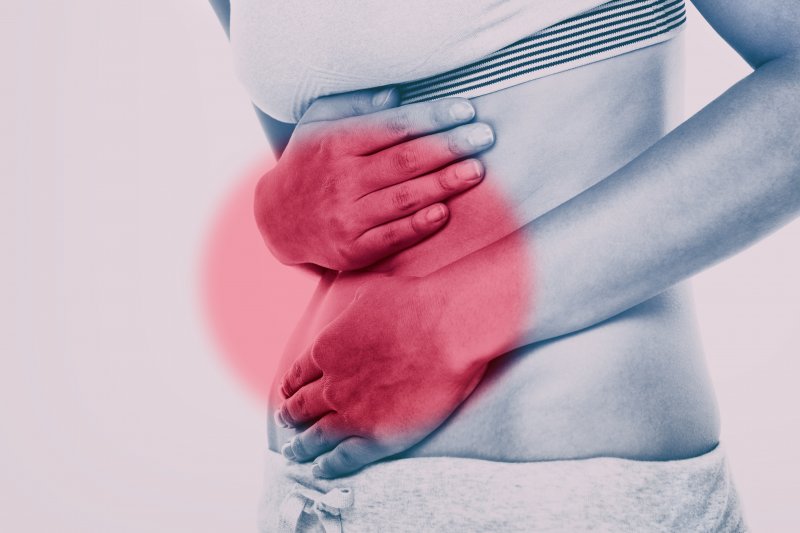 Crohn's disease is a chronic inflammatory condition of the gastrointestinal tract. It is caused by an autoimmune reaction in the body when the immune system mistakes the bacteria in the digestive track, therefore attacking healthy cells. As a result, there are many different gastrointestinal symptoms. What many people don't know is that Crohn's disease affects dental health. Continue reading to learn about the different oral symptoms you could be experiencing and what you can do to prevent them.
What Oral Health Issues Can Be Caused by Crohn's Disease?
There are several different dental health problems that can be caused or worsened by either Crohn's disease or the medications that are taken to manage this medical condition. Here are just some of them:
Xerostomia: This is when the salivary glands in the oral cavity do not produce enough saliva in order to keep the mouth moist. This increases the risk of cavities, tooth decay, and halitosis (bad breath).
Oral granulomatosis: This is defined as the swelling of the orofacial area, usually the lips.
Aphthous ulcers: These are painful canker sores that are found in the oral cavity.
Erythema: Erythema is when gingival tissue appears irritated with general redness.
Gingivitis: The earliest stage of periodontal disease that can progress to periodontitis when left untreated.
Mucosal tags: These skin tag-like growths can appear in the mouth as a result of Crohn's disease.
How Can You Keep Your Smile Healthy When You Have Crohn's Disease?
In order to prevent future oral health issues, it is critical that patients with Crohn's disease are seeing a dentist every six months for regular cleanings and checkups. Having an excellent oral hygiene routine is also extremely important. This means brushing twice and flossing at least once every single day in order to prevent issues like tooth decay and periodontal disease. Using a mouth rinse is another great step that should be implemented.
If you have Crohn's disease, this is definitely something that you should let your dentist know about. You should also keep your gastroenterologist in the loop. This is because certain dental procedures may call for the use of either antibiotics or non-steroidal anti-inflammatory drugs (NSAIDS). Sometimes, these drugs can cause problems, like flare-ups, for people who are dealing with IBD.
The good news is that you don't need to let your Crohn's disease get in the way of keeping up excellent dental health. By working with your doctor and dentist as well as maintaining great oral hygiene, your smile will thank you!
About the Author
Dr. Shelly Strohman is an experienced dentist who has been working in the field for 13 years so far! She earned her Doctor of Dental Surgery from the UMKC School of Dentistry. Currently, she is a member of the American Dental Association, Texas Dental Association, 13th District Dental Society, and Texoma Christian Care Center Board of Directors. For more information or to schedule an appointment at her office in Wichita Falls, visit her website or call (940) 613-0299.