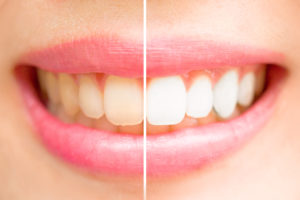 Is the appearance of your teeth important? According to a recent study, it is, as one-third of the people surveyed said the first thing they noticed when meeting a new person was the condition of his or her teeth. Thus, if you know that you have flaws in your smile, you could be making a poor first impression. The thought of this happening, then, contributes to you having less confidence. Thankfully, there's a cosmetic procedure that can work wonders for the way you feel about yourself and the impact you make on other people. Read on to learn about the advantages of teeth whitening in Wichita Falls!
What Makes Teeth Whitening So Effective?
When stains penetrate your enamel and embed in your dentin, simply brushing your teeth won't make an impact. Instead, your ivories will require professional whitening to lift the stains and reverse discoloration.
Using the highest quality professional bleaches, coupled with a safe in-home application, your local dentist helps you remake your smile and boost your confidence. As a result, you're left – in just two weeks – with brand-new looking ivories that are eight to 10 shades lighter than they previously were.
How Does the Process Work?
The teeth whitening process starts with your dentist first assessing the cause of your stains and discoloration. He or she will consider the following factors:
Your consumption of darkly colored foods and drinks
Smoking or tobacco usage
The influence of aging or enamel wear revealing the yellow dentin layers of teeth
Any genetic influence that contributes to your discoloration
Any signs of fluorosis and hypermineralization (brighter white spots on teeth)
Consumption of tetracycline medications can lead to dark banding on teeth
Following the assessment, your dentist in Wichita Falls will be able to move forward with the procedure, which includes custom-made trays that you'll take home and apply using the instructions provided. Using the professional grade whitening gel, you'll wear the trays for 45 to 60 minutes per application, typically achieving the look you want in two weeks.
With your improved image, there are still more benefits, though.
Can My Confidence Impact My Health?
One of the greatest benefits of having your teeth whitened professionally is that it can enhance your overall health by boosting your confidence. That's because feeling good about yourself helps to dissolve stress hormones. As a replacement, your body produces more endorphins, dopamine and other hormones that contribute to creating a healthier environment, mentally and physically.
To experience this phenomenon, reach out to your cosmetic dentist in Wichita Falls to schedule a visit today! Within a few weeks, you can be making the type of positive impact on yourself and other people that you desire!
About the Author
Dr. Shelly Strohman earned her dental degree from the University of Missouri-Kansas City School of Dentistry. One of her goals is to make sure that every patient she treats has an outlet to enjoy the type of oral wellness and aesthetics that they deserve. Dr. Strohman cares for her patients at Strohman Dental and can be reached for more information through her website.